Transportation Department(Bus Garage)
Transportation Department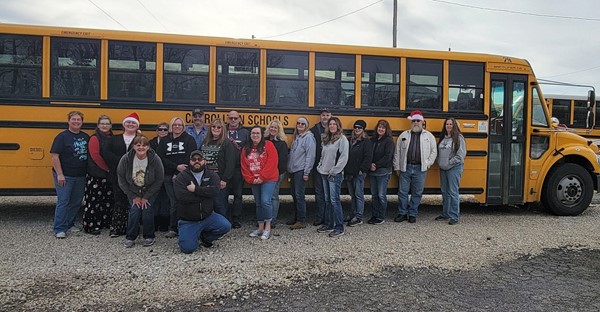 Thank you to our AWESOME bus drivers!
Click the bus for a link to our digital boundary map!
Our staff is dedicated to providing a safe and reliable service to our students. They strive to make your child's bus transportation an enjoyable experience.
We wanted to remind you of some important information:
- Children should be at their designated bus stop at least 5 minutes before their scheduled pick-up time. They must be dressed appropriately for the weather. By law, drivers are not required to wait for children at the stop, so please have them at their POS (point of safety) and ready for pick up. We cannot stress enough, the importance of this. Having to wait for children to come from the house, porch, etc causes a delay. We need to be able to have uniform service to all students. Children must also be able to keep all of their carry-on items (including band instruments) safely on their lap during transportation.
Bus Rules: each student is expected to follow the rules of the bus.
The bus driver will assign seats and each student must sit in that seat each time.

Be courteous and respectful.

Speak kindly and politely to others and use your inside voice.

Each student is to sit correctly in their seat. Back on back, seat on seat and feet on floor, if they touch.

No student is to get out of their seat to exit the bus until the bus has come to a complete stop.

No eating or drinking on the bus.

Keep your hands, feet and objects to yourself.

No smoking or use of any tobacco products.

There is to be no talking at railroad crossings.
Help us help you!
- The bus garage needs to be kept up to date on any and all changes that may need to be made concerning your child's transportation. We realize some students may need to be picked up and dropped off at a babysitters, or grandparents, please contact us to see if we can work out those details.
- Presently, we are not allowing students to ride home with other students, if it is not their assigned bus, however, in emergency situations, an exception can be made. We need to hear from you and the other parent that is being affected, both must call the office for approval.
- Notes are no longer acceptable, as we must receive a call from parents.
- Any changes to busing need to be done by 1:00 p.m.
- If children have a split schedule with mom and dad, it is very helpful that the bus garage receives a calendar on file letting us know where they will be riding to and from. This helps us all to work together in ensuring your child gets home to where they need to be that day.
TRANSPORTATION DEPARTMENT FACTS!
Our district covers 290 square miles

Did you know? Bus drivers must attend 15 hours of classroom training and 12 + hours of on-road training, then pass the CDL test. They also must pass an annual physical, criminal background check and drug testing, all before they can transport your children. Drivers must be re-certified every 6 years, taking a written test.

By law, schools must transport all K thru 8th-grade students but are not required to transport 9 thru 12th grade.

The school is not required to transport students living within 2 miles of the school.

Parents are responsible for their child's safety to and from their designated bus stop and while at the bus stop.

Video Security cameras are installed on all buses in our district.

BY LAW, STUDENTS MUST BE AT THEIR DESIGNATED BUS STOP PRIOR TO THE BUS ARRIVING. THE BUS DOES NOT HAVE TO STOP AT A DESIGNATED STOP IF NO STUDENT IS THERE!